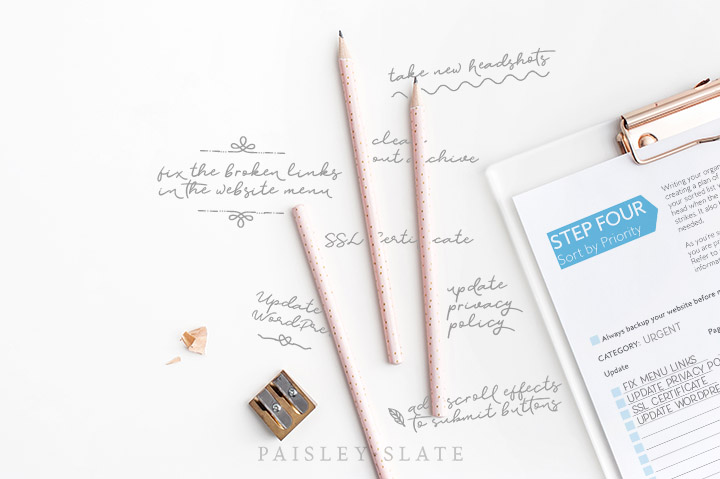 If you have a website, you have a to-do list whether you write it down or not. The things you know you should improve and revise are as endless as laundry. Or dishes. Additionally, updates for themes, plugins, links, and prices constantly add to that "to-do" pile, leaving you overwhelmed and prone to shiny object syndrome.
The Dangers of Reaction-Based Web Design
Whether you make design and technical changes yourself or work with a professional, resources are limited. In some ways, your "to-do" list becomes more of a wish list because you just can't do everything the minute it comes to your attention.
So what happens when you see something really cool on another website, or on your social media feed, or in an email advertisement?
That shiny object catches your attention and puts itself at the top of your must-haves. You spend all of your time and money on that thing without any thought for how it fits your brand, or improves your audience's experience, or really WORKS for your business.
And the worst part is that all of the really important, but less glamorous things that would really improve your audience connection get shoved further down the list to wait for next time you have the time or money to invest in your website.
Don't worry! With just a bit of time and a few steps, you can turn your wish list around and make a really work for you!
A List That Really Works
Click below to download a handy little worksheet that will keep your notes organized and walk you through the four steps you'll need to take to create a perfectly prioritized list.
1. Write It All Down
The first step is to get everything down on paper so that you can see it and sort it. Start with any updates pending on your dashboard, and list anything else that's been on you list.
Next, I recommend doing a website audit by visiting each page and looking for anything outdated or broken. This includes links or widgets that may not be functioning the way they are meant to. It can also be graphics and pictures that need to be updated. A professional can be especially helpful with a design audit if you know you need changes but can't quite put your finger on what's not working.
You should also write down anything you get asked about frequently. Customer questions that come up regularly are a perfect sign that something needs to be spelled out better on your site, or simply redesigned or reworded to be easier to find.
Finally, see if your social media profiles need similar attention. Even though these technically fall outside of your website, they should be closely tied in style and message. When we get to later steps you may be able to combine some of these tasks with other web tasks to save time and money.
2. Think of Your Audience
Designing for yourself is so tempting. After all, your website should be a reflection of YOU! It's your home on the web! Except that it really isn't.
Unless you're writing a personal blog for yourself, and don't care if anyone else ever sees it, you're just the one hosting the little get together for your audience.
Before you can create the list that really works for you, you have to know your audience. Understanding who they are and what they need from a visit to your website is a game-changer. Instead of guessing at what is going to work and riding the wave of every popular opinion and marketing gimmick, you'll have solid strategy baking up every decision.
3. Create Categories
Once you have your audience in mind, it's time to create categories for your website to-do list so that you can start sorting your tasks. Your categories should fit into your workflow, and can be customized. I recommend starting with something like the following:
Essential
This category is for tasks that are critical to being able to serve your audience.
Important
These are tasks that build trust and improve your audience's experience on your website.
Useful
These are changes that are nice, but don't necessarily solve a problem for your audience.
Detrimental
These are changes that seem like a good idea, but will actually make serving your audience more difficult.
4. Sort Your Tasks by Priority
Step 3 undoubtedly has you thinking about your list, but please don't stop yet!
Writing your organized list in categories is essential to creating a plan of action that will keep you on track. Having your sorted list written down is the only way to keep your head when the sparkly, glittery, shiny object syndrome strikes.
Essential
Some examples of essential tasks might be:
Broken links to essential products or pages
Broken widgets or plug-ins
Site security issues such as SSL certificates, etc.
Updates to WordPress, plugins, themes, etc. – especially if there are security fixes
Missing pages or information about your product or service
Outdated contact information
Important
Important tasks might include:
Design changes to improve readability
Improvements to navigation menus and titles
SEO optimization
Accessibility improvements
Making sure copy is clear and not misleading
Improving branding to connect better with your client
Building trust (consistent voice, social proof, case studies)
Correcting any outdated information
Correcting other links
Ensuring branding is consistent on social media channels
Useful
A few useful tasks could be:
Archive out-of-date articles
Freshen up web design or copy
Update photos
Add a new design element
Detrimental
Don't do these, no matter how tempting they seem:
Trendy design elements that distract your audience from your message
Marketing techniques that aren't a good fit for your audience
Design elements or copy that could cause misunderstanding
Animations that slow your site down without doing anything to build audience relationships
Act on Your Plan
Now that you've got a prioritized to-do list, you're ready to get to work. For projects you'll be handling yourself, consider setting aside regular blocks of time to make your updates. If you will be working with a designer or developer to solve various challenges, your list will help you both focus on the most important updates. Being able to communicate your needs clearly will save time and money.
Avoid getting distracted by less-important projects, but if you have tasks that combine easily, feel free to tackle them together! For instance, if you're going through all of your old articles to update broken links, and run across some that need to be archived, it's a great use of time to just click to archive while the article is in front of you, even though that task falls lower down in your priorities.
Save your wishes for wells, and dandelions, and birthday candles. Save your wish list for laundry and dishes. You won't need them for your website to-do list anymore, because your website to-do list is now a strategic PLAN that will really work for you!